BASIC INFO
Strobe LED flashlight with red laser sight scope
1. Red laser of 5mw 650nm
2. 200 LMs CREE Q5 LED flashlight
3. Normal or hard anodize
Model: ES-XL-2LL-R
Name: Pistol-mount intergrated Tactical Strobe Red laser sight scope and strobe LED flashlight combo, Red laser sight, Laser sight, laser scope, LED light, LED flashlight
Product Origin: China
Supply Ability: 1000 PCS/month
Minimum Order: 100 PCS
Delivery Lead Time for MOQ: 20 days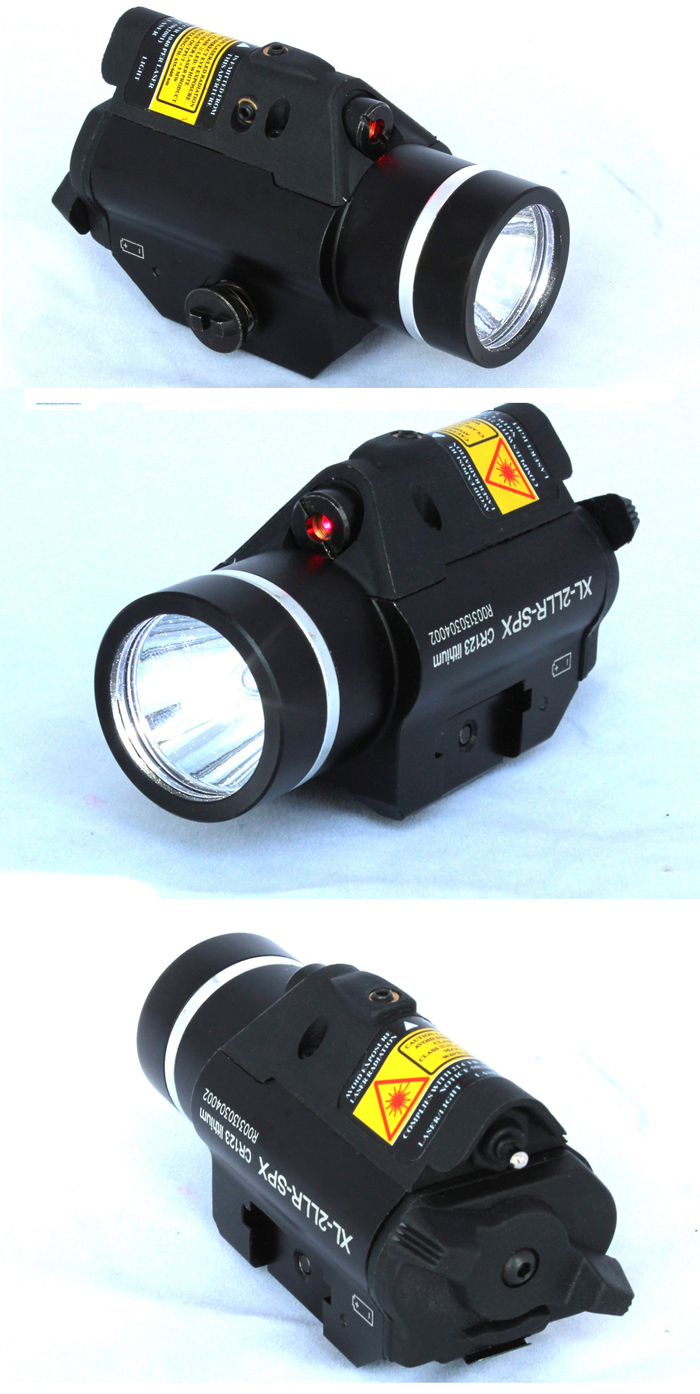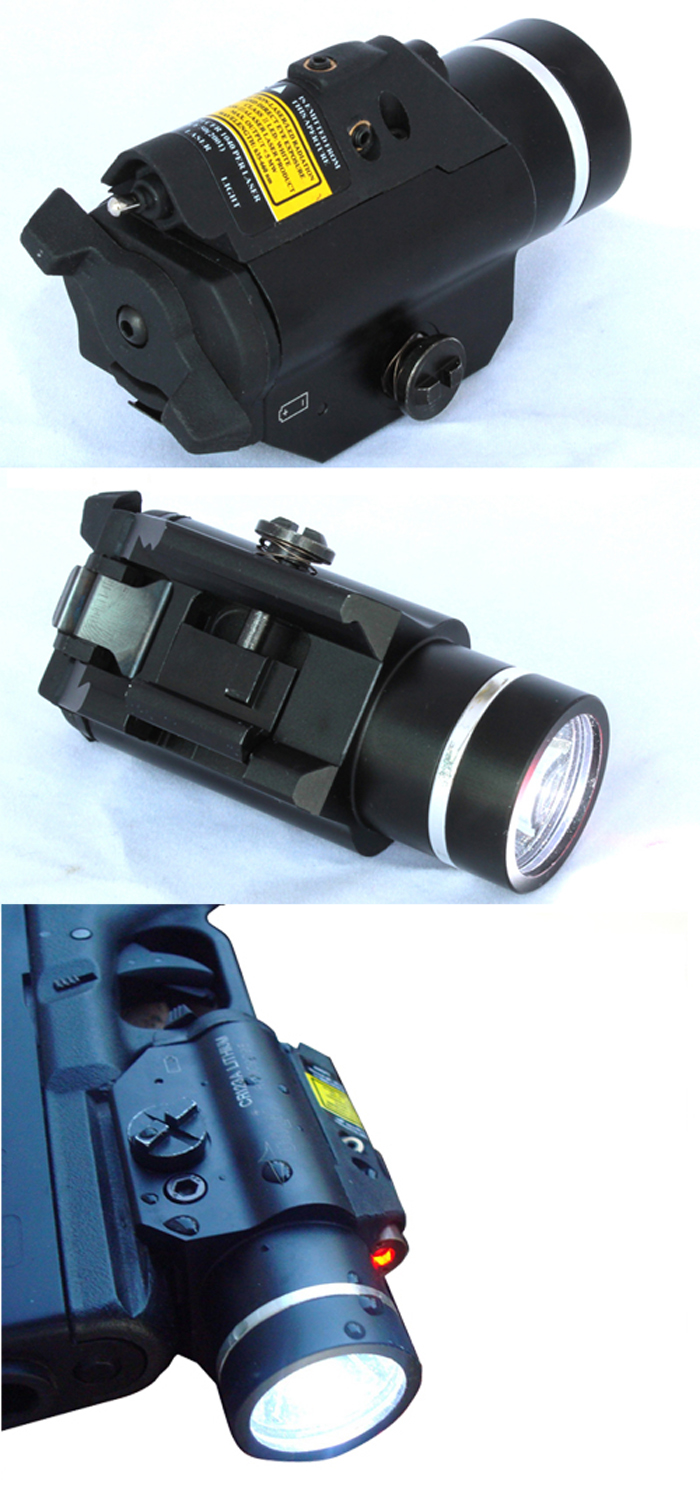 TECHNICAL DESCRIPTION
Wavelength: 635nm
Power Output: 3 W
Laser Type (mw): 5
Battery: Two CR123 Lithium Batteries
Battery Life: 2.5 hours of runtime
Lamp cup radiation angel: 45 degree
LED detailed information
LED model: CREE Q5 LED-003
Power: 3W
Diameter: Ø 8 mm
Length: 85 mm
LED brightness: Up to 200 or 225 lumens blinding beam, Bright sidelight
LED radiation angel: 120 degree
Light color: Cold white
Max electric current: 750mA
Working Temperature: -20 ~ +65
Storage Temperature: -40 ~ +80
Light attenuation: Less than 3% after 10k hours
Life time: ≤ 50000 hours
Laser detailed information
Model: LD-532-5X
Diameter: Ø 5.6 mm
Length: 5 mm
Wavelength: 635 nm
Working Temperature: -40 ~ +45
Storage Temperature: -50 ~ +65
Max electric current: 50mA
Life time: ≤ 5000 hours
Working volt: 3V
Weight with Battery: 4.72 oz, 133.8g
Warranty: Extended Warranty
Construction: Aircraft aluminum 7061-T6
Finish: Anodic oxidation/ V' r3 black
Operation: Ambidextrous Momentary/Steady on-off Switch
Rail Mount: Integrated mount
KIT INCLUDES
Laser sight and LED Flashlight integrated group
Calibration tools
2 CR-123A lithium batteries
User manual
Tail wire pressure pad switch with plug hole battery end cover (optional)
IR filter or other filter with fraont frame cover (optional)
PACKING
Packing: 1 unit/gift box, 50 units/master carton
Unit package: Gift paper box
Master Carton: Top cardboard carton
FEATURES
Quick target acquisition
Lightweight
Compact
Safe and adjustable
Dust and Shockproof
Ambidextrous Momentary/Steady on-off Switch
Machined anodized aluminum housing
Fits existing light bearing holsters
Adjustable mount flexibility that can accommodate the Glock or Picatinny (1913) accessory rails.
BATTERY ASSEMBLY
The ES-XL-2LL laser sights use 2 CR-123 (6V) batteries. The CR-123s negative and positive pole has been indicated on the mount.
DANGER: DO NOT use anything other than a CR-123 battery or rechargeable batteries with this product.