BASIC INFO
Green laser designator with red laser combo feature:
1. Low temp up to - 20 centigrade workable.
2. Laser output power reaching 50mw
3. Inside heating system intergrated.
4. A wide range laser beam diameter adjustable with min dia locking system
5. Both laser mount and weaver rail riflescope ring mount attaching with adpators to fit size with both 25.4mm and 30mm.
6. Rechargeable batteries with a spare battery including charger in both wall and car plug.
7. High grade aluminium gift case package.
8. With a quick start invisible IR laser sight integrated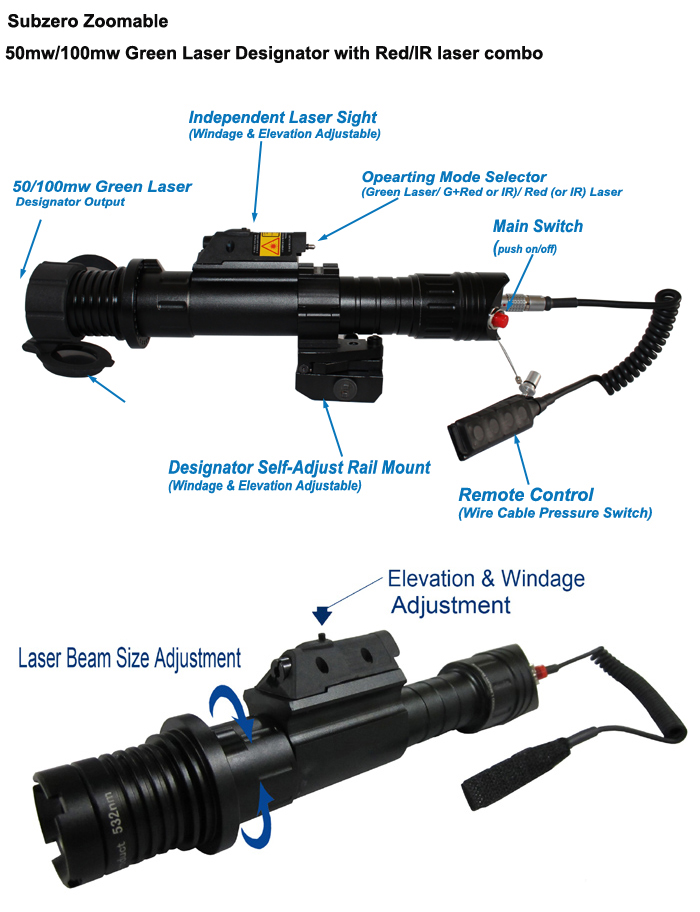 ES-KS-CL2-G50R Long Distance Green Laser Designator
(1) Green Laser Sight
(2) Wavelength: 530-532nm
(3) Expansion: 10X
(4) Battery: ICR18650 rechargeable Lithium battery with 2400mAh
(5) MTTF: 5000 hours
(6) Laser power: Output Exit power<50mw
(7) Laser bean DOT diameter: Max dia 3.2m (+/-10m) Min 22mm (+/-5mm) Measured at 30 meters distance; Dia is 7.8 meters Error between +/- 5 to 10mm) Measured at 100 meters distance,
(8) Designator Outer size: L223mm X Max dia 30mm, Min dia 25mm
(9) Power consumption: Max 15W under -20 centigrade, normally is 3W under 20-25 centigrade
(10) Laser class: CLASS 2M
(11) Operating Voltage: DC3.7V
(12) Operating Temperature:
(High temp) It can work steady under 40 centigrade for 15-20 minutes, but it can work well constently under 35 centigrade.
(Low temp) It will delay in light under -20 centigrade after 2minutes, it can work well under -20 centigrade
(Low temp start) When it was stored under -20 centigrade in closed mode for 10 minutes, it needs to heat for 1-2 mins before it can work steady.
(13) Storage Temperature: -30~80 centigrade
Feature:
Low temp working compatbility
Power adjustment
Variable laser beam diameter adjustable
High-quality green laser module, optical glass lens, driver circuit and housing
High Transmission
Short System Length
Small Spherical Aberration
High reliability, high stability, long life, low price
Fully o-ring sealed for dust
Fully multicoated optical lens systems
Rotary optical beam collmator - Allows quick adjustment of beam diameter and intensity
Amplified coherent light-Most efficient light for long distance illumination
Application Area:
Laser Alignment
Aiming and Positioning
Hunting and Spotting
Search and Rescue
Outdoors and Hiking
Packing list:
1x Tactical Green Laser Designator with a Red laser sight combo
1x Remote Pressure Pad with wire Plug switch
1x Red color on/off push button switch
2x ICR18650 rechargeable Lithium battery with 2400mAh ( 1 spare battery)
1x Weaver rail riflescope ring Mount (Φ 25.4mm and Φ 30mm )
1x Windage and elevation adjustable laser mount (Φ 25.4mm and Φ 30mm or 34mm)
1x Plastic front lense cover (optional)
1x Front lense filter set (optional)
3x Allen wrenches
1x Aluminium case with outer color box and individual inner carton