BASIC INFO
Model: ES- XL-KSSD-2LR-T6
Name: Tactical strobe red laser sight and strobe 500 lumens led light combo, the led light with strobe function and the red laser is a quick start constant or strobe red laser.
Product Origin: China
Supply Ability: 1000 pcs/month
Minimum Order: 100 pcs
Delivery Lead Time for MOQ: 20 days
TECHNICAL DESCRIPTION
Wavelength: 635nm
Power Output: 3 W
Laser Type (mw): 5
Battery: 18650 rechargeable 2200mAh battery 3.7V 1pc
Continuous Runtime: 2.5 hours )both green laser with led light working on), 57 hours (only laser), 2.5 hours (only led light)
LED detailed information
LED model: CREE T6 LED
Power: 3W
Diameter: Ø 8 mm
Length: 202 mm
LED brightness: Up to 500 lumens blinding beam, Bright sidelight
LED radiation angel: 240 degree
Light color: Cold white
Working Temperature:-40 ~ +55
Light attenuation: Less than 3% after 10k hours
Life time: ≤ 50000 hours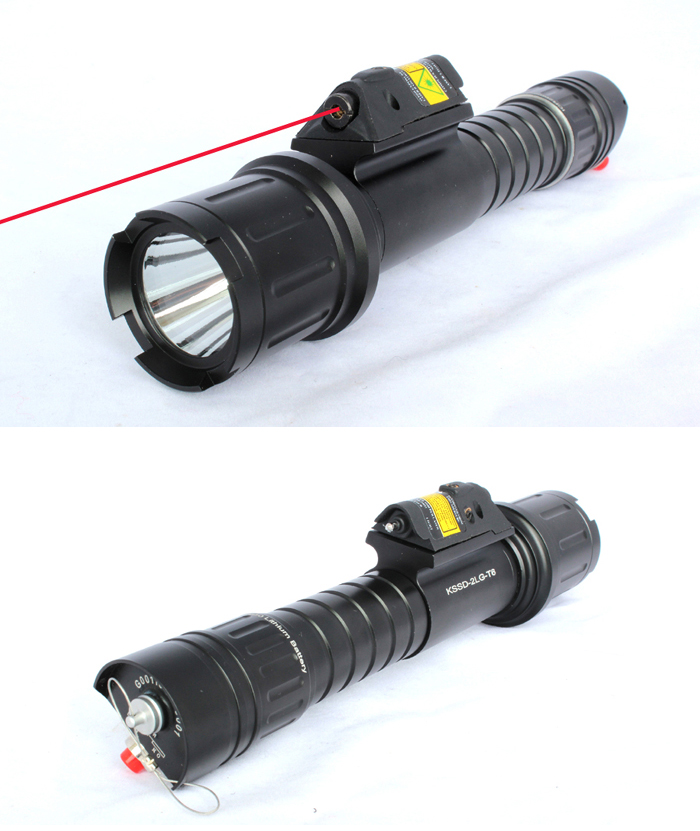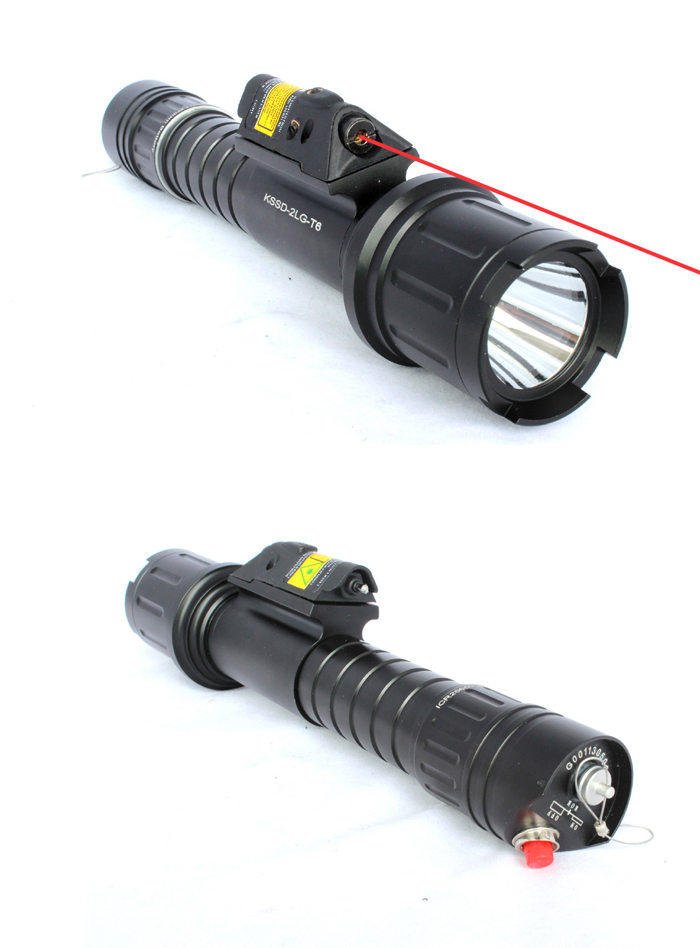 Laser detailed information
Diameter: Ø 5.6 mm
Length: 5 mm
Wavelength: 532 nm
Working Temperature: -20 ~ +50 (-4°F~122°F)
Laser Spot Diameter: 30-40mm @ 30m
Life time: ≤ 5000 hours
Working volt: 3.7V
Weight with Battery: 305.60g
Warranty: Extended Warranty of 1 year
Construction: Aluminium alloy 6061-T6 with black anodized finish
Finish: Anodic oxidation/ V' r3 black
Operation: Ambidextrous Momentary/Steady on-off Switch
Rail type: MIL-STD-1913 Picatinny Rail
KIT INCLUDES
Laser sight and LED Flashlight integrated group
Calibration tools
1PC 18650 rechargeable 2200mAh battery 3.7V
User manual
PACKING
Unit Weight: 2.3 kgs
G. W: 28.5 kgs
N. W: 26.2 kgs
CTN: 8 PCS
Carton Size: 62cmX52cmX28cm
Individual packge: The aluminium case with the outer color box
Warranty: 1 Year Limited warranty.
FEATURES
Quick target acquisition
Lightweight
Compact
Safe and adjustable
Dust and Shockproof
Ambidextrous Momentary/Steady on-off Switch
Machined anodized aluminum housing
Fits existing light bearing holsters
Adjustable mount flexibility that can accommodate the Glock or Picatinny (1913) accessory rails.
LASER SIGHT and LED LIGHT ZEROING
For a laser mounted below or to the side of the bore, there is only one distance where the bullet path will coincide with the laser sight line, this point is the zero range.
Laser adjustment and the muzzle velocity of the bullet determine where this point occurs. The user must decide how high above or below the sight line the bullet can be allowed to strike and adjust the sight accordingly. At distances less than the zero range the bullet will be above the sight line. Beyond the zero range the bullet will be the sight line.
If mounted to the side, the bullet will also deviate to the side of the laser line, as well as up and down. In practice, a KSSD with laser combo on a machine gun can be adjusted to keep the bullet strike within about 2 high and 2 low out to about 100 feet.
The LED also can adjust the windage and elevation with the intalled windage and elevation adjustable mount.
....