BASIC INFO
100mw Green laser flashlight designator illuminator feature:
1. Low temp up to - 25 centigrade workable.
2. Laser power adjustment, output power reaching 120mw
3. Inside heating system intergrated.
4. A wide range laser beam diameter adjustable with min dia locking system
5. Both laser mount and weaver rail riflescope ring mount attaching with adpators to fit size with both 25.4mm and 30mm.
6. Rechargeable batteries with a spare battery including charger in both wall and car plug.
7. High grade individual aluminium gift case package.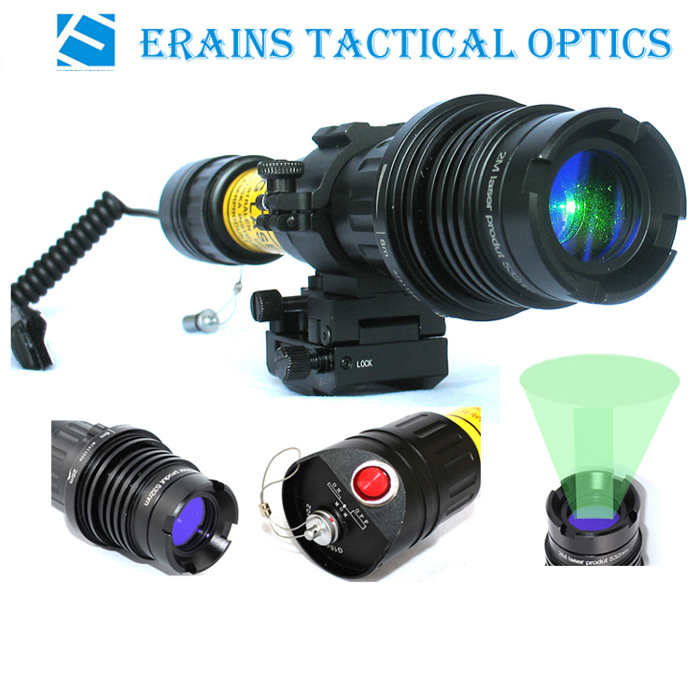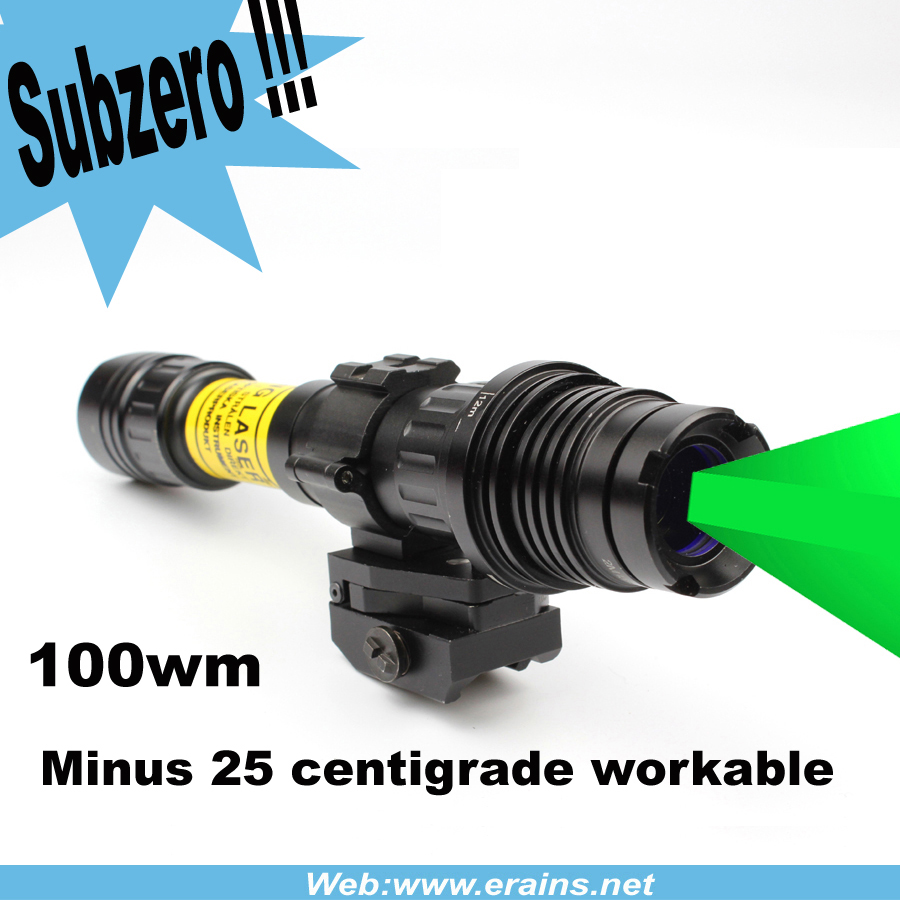 Product Sample Testing Report
Name
ES-KS300 Professional Green laser designator (ICR18650 battery box)
Output
> 80-100mw
Test unit
1PC Sample
Test contents
Standard requirement
High and low temp test
High temp
It can work steady under 40 centigrade for 15-20 minutes, but it can work well constently under 35 centigrade.
Recommended working tem from -10 centigrade to +35 centigrade, pre heating starts automatically in sub zero temp, below -15 centigrade, it needs to heat up a short period. before it works steady.
If hunting below sub zero conditions, use black lense cover. Start the designator asap when animals are approaching, then just flip the front cover up when you are ready to shoot.
Low temp
It will delay in light under -25 centigrade after 2minutes, it can work well under -20 centigrade
Low temp start
When it was stored under -20 centigrade in closed mode for 10 minutes, it needs to heat for 1-2 mins before it can work steady.
Random vibration test
Stimulate the shock platform
Stimulate the semi-rifle continuous shooting platform
Drop test
fall from 3 meters height to sediment ground
No changes on brightness and dot position after 3 times falling
Proof test
Water proof
Rain water proof
Dust proof
IP65
Laser wavelength
530-532nm
Laser power
Output power=120-150mw Exit power> 80-100mw
Laser bean dot diameter
Measured at 100 meters distance Max dia 26m (+/-10cm) Min 8mm (+/-5cm)
Error between +/- 5 to 10cm
Produce working info
Power consumption
Max 15W under -20 centigrade, normally is 3W under 20-25 centigrade
Batterysort
ICR18650 rechargeable Lithium battery with 2400mAh
Voltage
3.7V
Batteryworking time
Work constantly for 6-7 hrs under 25 centigrade, but it just can work constantly for 2-3 hrs under -20 centigrade
Main body material
6063-T6 Aluminium
Finish
Normalanodize
Outer size
L225mm X Max dia 46mm, Min dia 25.4mm
Weight
2.1kgs for full set with aluminium case
Heating means
PWM
The above website displayed costs range is just for the ads for the purpose of protecting our current distributor's selling costs, the actual selling costs could be noted after receive the private inquries.