BASIC INFO
Red laser sight with LED flashlight
1. 5mw Red laser
2. 200 Lumens CREE Q5 LED flashlight
3. Plastic body
4. Quick detach mount
Model: ES-JGSD-R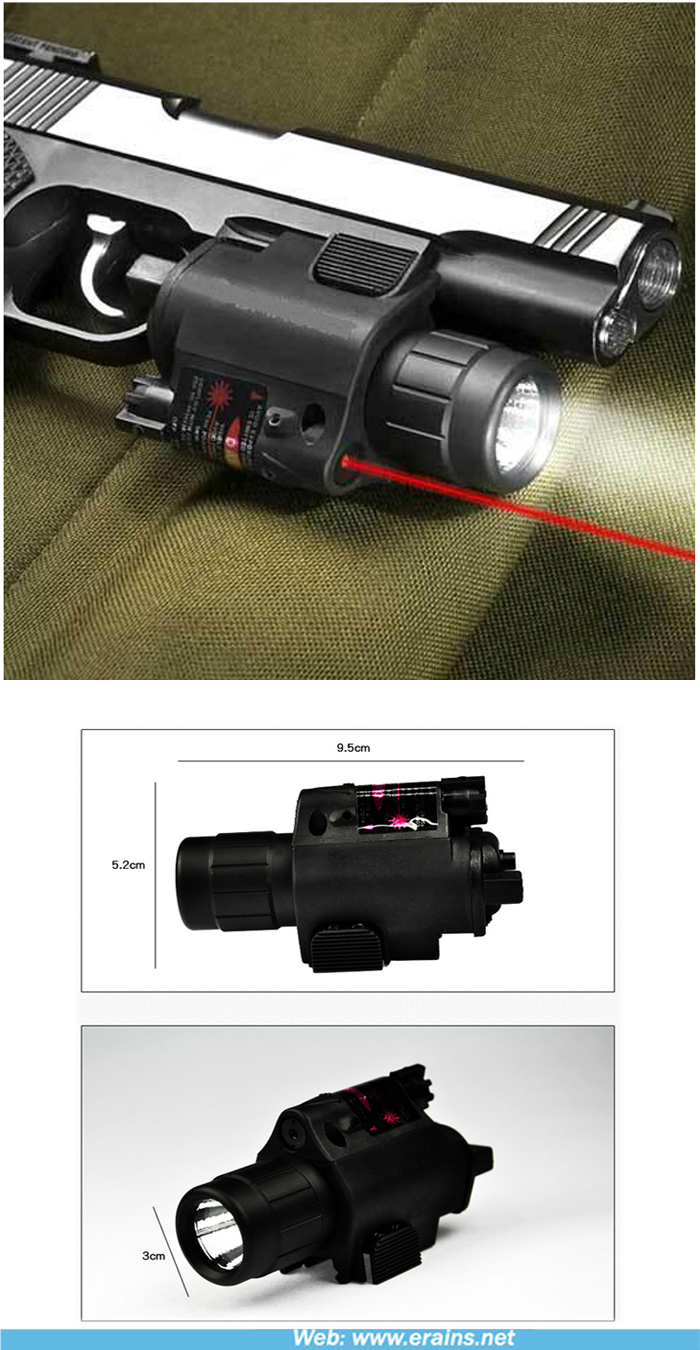 Name: Pistol-mount intergrated Tactical LED light with Red laser sight combo
Product Origin: China
Supply Ability: 4000 PCS/month
Minimum Order: 100 PCS
Delivery Lead Time for MOQ: 10 days
TECHNICAL DESCRIPTION
Wavelength: 650nm
LED light Power Output: 3 W
Laser output (mw): 5
Battery: Two 1300mAh CR123 Lithium Batteries
Battery Life: 3 hours of runtime
LED detailed information
LED model: CREE Q5 LED
Power: 3W
Diameter: Ø 30 mm
Length: 85 mm
LED brightness: Up to 200 lumens blinding beam, Bright sidelight
Light color: Cold white
Max electric current: 750mA
Working Temperature: -20 ~ +55
Light attenuation: Less than 3% after 100k hours
Life time: ≤ 50000 hours
Laser detailed information
Model: LD-650-5X
Diameter: Ø 5.6 mm
Length: 5 mm
Working Temperature: -0 ~ +55
Max electric current: 50mA
Life time: ≤ 5000 hours
Working volt: 3V
Weight with Battery: 210g
Warranty: Extended Warranty
Construction: Black color polymer body with aluminium alloy head
Finish: Anodic oxidation/ V' r3 black
Operation: Ambidextrous Momentary/Steady on-off Switch
Rail Mount: Integrated mount
KIT INCLUDES
Red Laser sight and LED Flashlight integrated group
1X Allen Wrench
2X 1300mAh CR-123A lithium batteries
User manual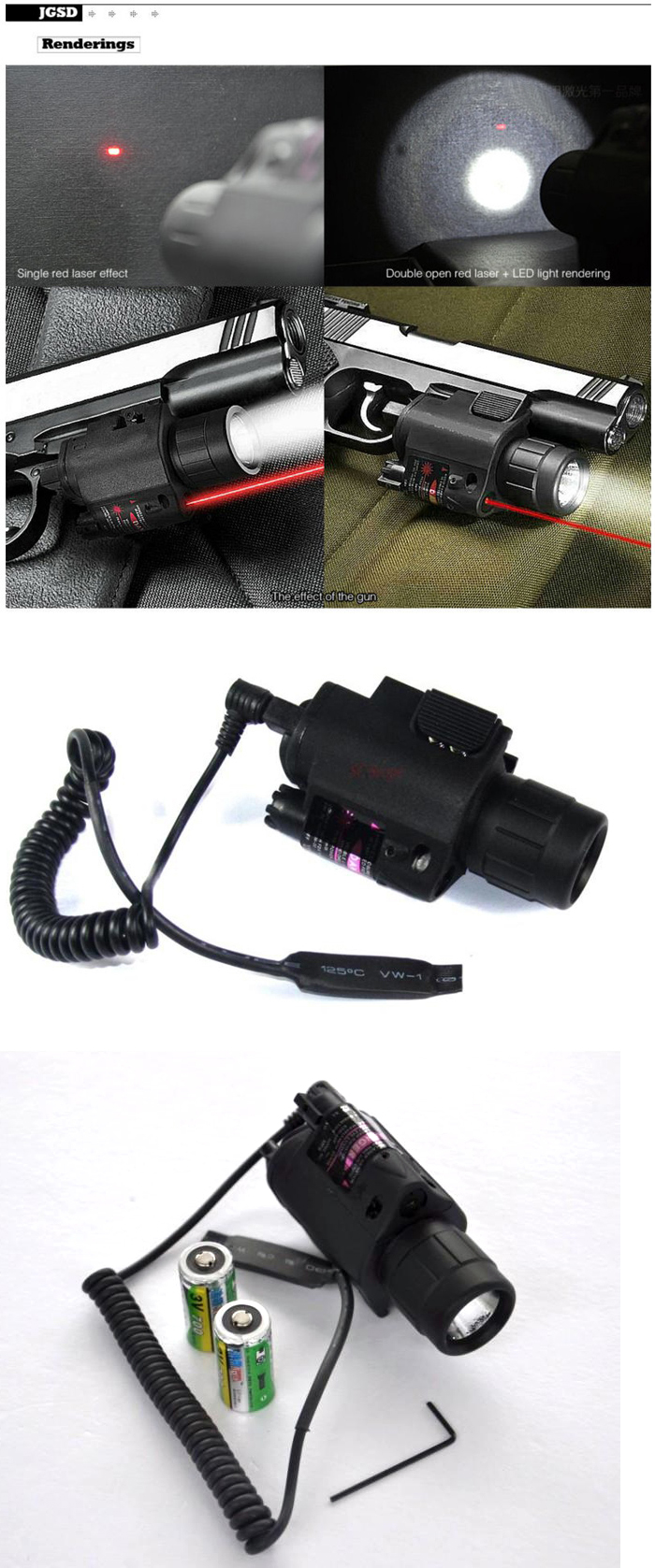 PACKING
Packing: 1 unit/gift box, 50 units/master carton
Unit package: Gift paper box
Master Carton: Top cardboard carton
WORKING MODES
1. Single Red laser on
2. Single LED light on
3. Both red laser and LED light on.
4. Both laser and light off
FEATURES
Quick target acquisition
Lightweight
Compact
Safe and adjustable
Dust and Shockproof
Ambidextrous Momentary/Steady on-off Switch
Dual Switches: Button switch turns on continuous beam of the flashlight or/and laser sight.
Black color polymer body with aluminium alloy head which is good fur heat dissipation
Quick release mount
Fits existing light bearing holsters
Adjustable mount flexibility that can accommodate the Glock or Picatinny (1913) accessory rails.
OPERATION:
1. Put the batteries into the tube
2. Fix the flashlight to the weapon
3. Make the elevation and windage adjustment by twisting 2 small screws in the head part with Allen wrench.
4. To operate the laser, press the switch.
SAFETY CAUTIONS
1. Never look directly into the laser beam.
2. Never point a laser beam at a person.
3. Do not allow children to use flashlight unless under the supervision of