BASIC INFO
Normal dot or unitque Chevron reticle are available.

Specifications
Tactical 2X42D Close Combat Green and Red Dot Sight Rilfe Scope
1. 2X magnification
2. Chevron reticle available
3. Full Metal with polish finish

Detailed description and introduction of this unique sight design:
Model Name: ES-2X42D Tactical Red and Green Dot Sight Riflescope
Magnification: 2x
Objective Lens Dia: 42mm Wide field window, fine for rapid shoot and moving target
Dimensions : 86mm 163x62x74mm
Mount type: weaver/picatinny
Weight (net): 15oz or 425G
Eye Relief: Free, unlimited
Field of View (M@ 100M): 13
Optics Coating: Multi Coated
Lens coating: AR silver
Reticle color: Both red green illumination
Reticle brightness settings: 0-5
Reticle type: Normal dot or unitque Chevron reticle is available.

Click value (1 click=MOA) : 1

Windage & Elevation(MOA) : 60

Low power consumption for longer battery life

25 - 300hrs
Operating temperature: 0-120ºF

Shock proof (1000g) and Fog Proof

High quality aluminum alloy in durable black matte finish with Rosting Oxidized

Feature 1 M.O.A (100 Yards) windage and elevation with for greater precision

Install on 21mm picatinny and weaver rail

Erains TAC Optics and made in China are under our strict quality control
Below is the images for the compare of this unique 2X42D with the standard of M2000 red dot sight: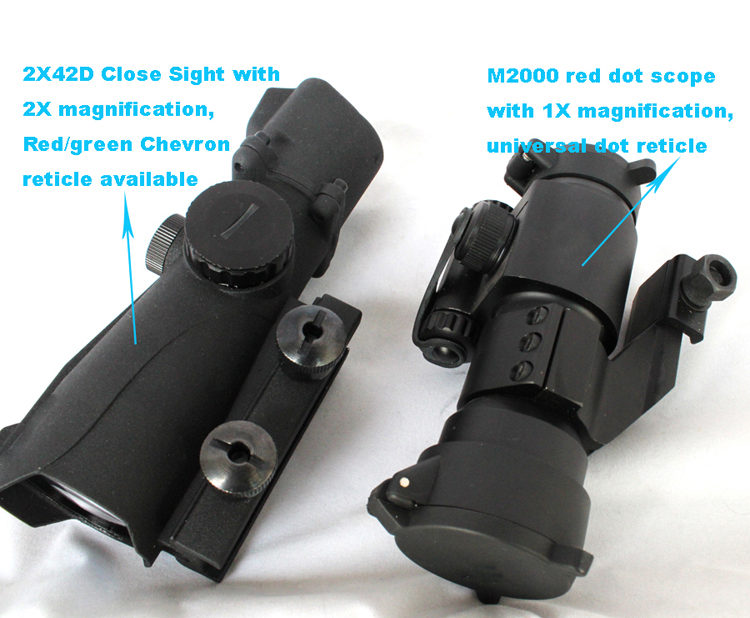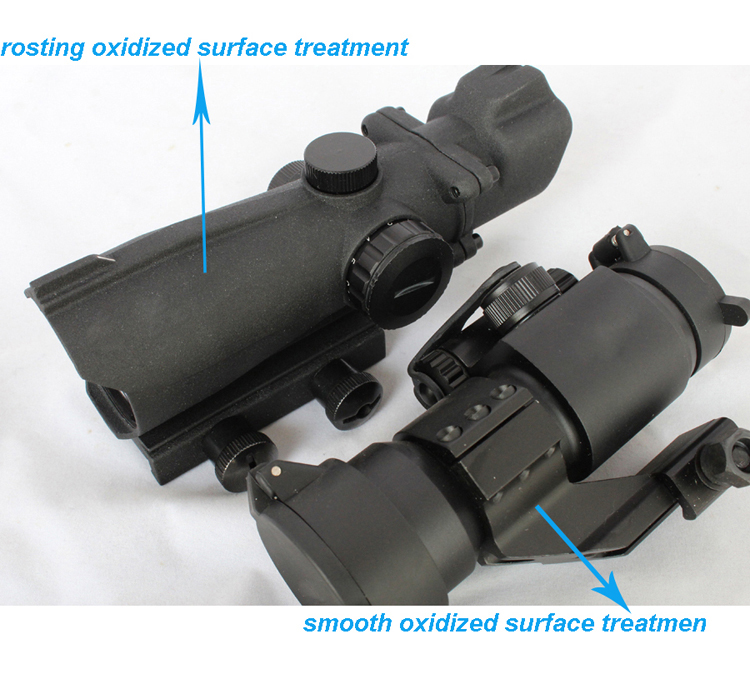 It is recommended to have the red dot sight mounted by a professional gunsmith. However, if attempting to mount the sight without professional assistance please read and strictly adhere to the following directions.

BORESIGHTING THE RED DOT SIGHT
Boresighting and test firing should be performed safely on a firing range. Laser boresights are a quick and accurate method to sighting in scopes .Listed below is the traditional method of boresighting.
1. When mounting the sight on a bolt action rifle, remove the bolt; or when mounting to a semi automatic rifle, disassemble the rifle until there is a straight line of sight through the bore.
2. Use a target at least 20yds to 50yds away when sighting in. Look through the bore of the weapon and locate the bullseye of the target.
3. Sight in the target through the bore and then make windage and elevation adjustments to the sight until the reticle is centered.
To verify the scope is sighted in, fire a three-shot test group.
4. If you are still off center, make the necessary adjustments and again fire a three-shot test group.
OPERATING THE WINDAGE AND ELEVATION ADJUSTMENTS
To make windage and elevation adjustments:
1. Remove the caps covering the windage and elevation adjustments.
2. Using a flathead screwdriver or coin make the necessary adjustments. The windage and elevation adjustments are 1 MOA, meaning 1 click moves the point of impact 1in. at 100 yds. Adjustments can be both felt and heard.
3. Once adjustments are complete, screw the caps back on.
MAINTENANCE
Proper maintenance of the red dot sight is recommended to ensure longevity. It is recommended that when the dot sight becomes dirty, it is wiped down with a dry or slightly damp cloth. Blow dirt and debris off all optics and then clean lenses with a lens cleaning cloth. No further maintenance is required.
WARNING
Always follow your firearm's instruction manual and warnings. Follow safe firearm practice. WARNING! Never attempt to mount the sight on a loaded firearm. DO NOT disassemble the sight for any reason as this will void the warranty and could be hazardous. Any internal work should be handled by the manufacturer. Any tampering with the purge screw will void the warranty.
TROUBLESHOOTING
Never ship back a red dot sight riflescope without getting the proper authorization beforehand. Doing so could result in losing the red dot sight due to a multitude of reasons, i.e. sending it to the wrong address and other problems associated with unexpected packages.
1. Check the firearms' mount that is securely attached. Also, verify the red dot is mounted securely to the rifle. If there is any shifting, retighten the mounting system according to the mounting instructions but do not over tighten.
2. When test firing a rifle to check the point of impact relative to windage and elevation adjustments, firing from a shooting rest will help eliminate shifting during firing. 3. Be sure to use factory-loaded ammunition of the same bullet type, weight, and preferably, lot number when sighting in the red dot sight.
INSTALLING THE BATTERY
The Erains Tactical Close Combat 2x42 Red Dot Sight Riflescope is powered by one CR2032. Should the reticle grow dim or not illuminate, the battery needs to be replaced. To install a new battery:
1. Unscrew the battery cap (4) counter clockwise and remove the battery.
2. Insert new battery with the positive (+) side facing up.
3. Screw the battery cap clockwise. Do not overtighten.
OPERATING THE ON/OFF SWITCH
To activate the Red Dot Sight Riflescope:
1. Locate the on/off switch (5) and Rotate the adjustment switch to the desired illumination setting.
2. After use, turn the switch to the off position marked by "0".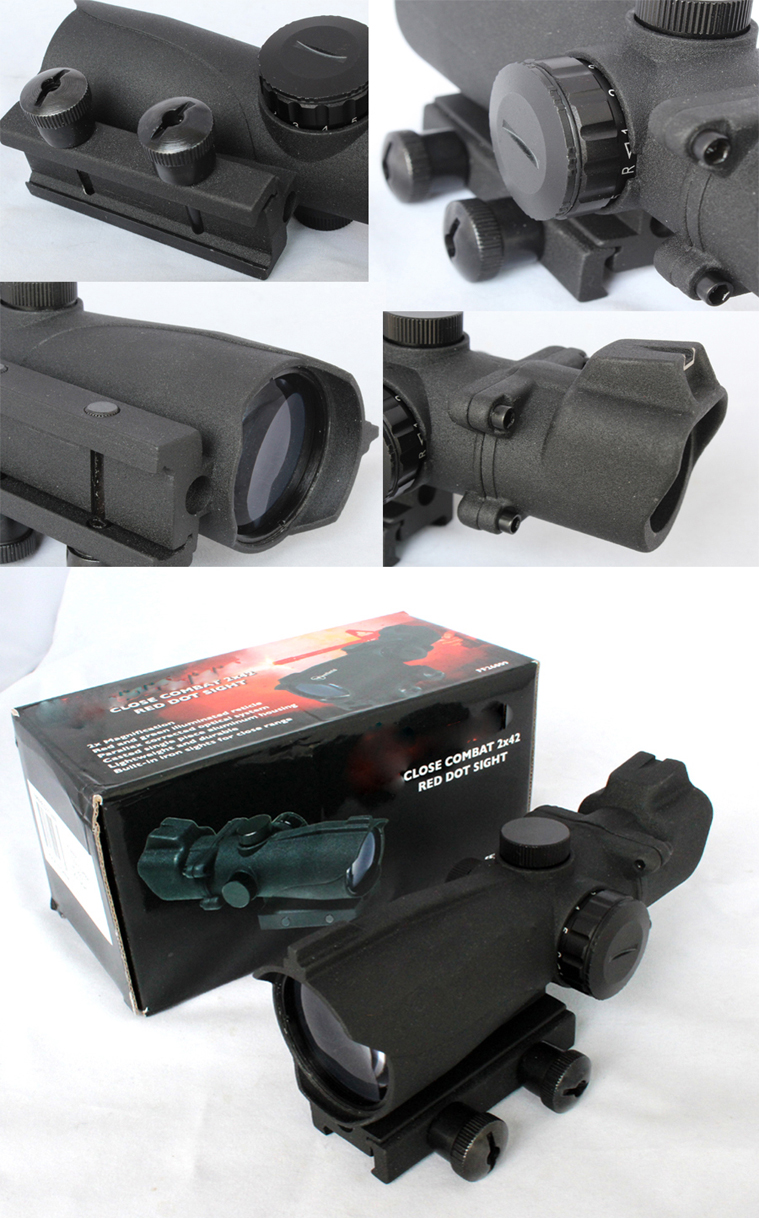 Brief Introduction with main tech info of this sight:
| | |
| --- | --- |
| Reticle type | Dot, circle with mid dot or the chevron type |
| Reticle color | Red and green |
| Reticle brightness settings | 0-5 |
| Magnification | 2x |
| Objective lens | 42mm |
| Eye relief | unlimited |
| Field of view (m@100m) | 13 |
| Parallax free @ yds | 20 |
| Click value (1 click=MOA) | 1 |
| Windage & Elevation(MOA) | 60 |
| Body material | Aluminum |
| Max recoil (G's) | 800 |
| IP rating | IP68 - weatherproof |
| Lens coating | AR silver |
| Mount type | weaver/picatinny |
| Battery type | CR2032 |
| Battery life | 25 - 300hrs |
| Operating temperature | 0-120ºF |
| Color | Matte Black |
| Surface treatment | Rosting Oxidized surface treatment |
| Dimensions | 163x62x74mm |
| Weight | 15oz or 425G |



Our Service
Except man-made mistakes, we will exchange the defective with a brand new one within 14 days after you get our product. According to the guild regulations customer shall be responsible for the returning shipping fee.

Warranty: 13 months free warranty with up to 2-3 years limited warranty for this model close combat sight.
Warranty, we offer 13 months limited warranty for our products. Damage due to misuse, ill treatment and unauthorized modifications and repairs are not covered by our warranty.
Shipping Method, We provide comprehensive shipping methods, for small quantity orders we ship by DHL Air-Express, or EMS/TNT Express service, it is safe and fast. For large quantity orders we can ship by Air transportation or sea transportation, also we can ship order to buyer's cargo agent in China. We quoted prices are EXW price, don't include shipping cost.

Company Policy: Strive for the Customer Satisfaction
We have rich experience upon the international order all over the world. We can deliver the order to your office or home directly. We will combine the shipping cost for multi items purchase.
FAQ
Finally, your feedback and suggestion are very important for us.
Thanks again for your attention. We sincerely hope you will enjoy our products.

All our products are built for real firearms. Our latest designators are manufactured with high quality components and materials. Excellent quality and stable performance. Water resistant, shock proof and recoil proof via (under) necessary condition testing.
Erains TAC Optics Tactical Close Combat Red / Green Dot Sight Rifle scope for shortgun or other compact szie machinegun and related weapons